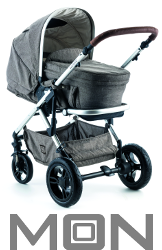 Jump to products
Moon Lusso - Timeless class and style
Moon Lusso is an elegant pram with a lightweight 3-in-1 carrycot, a reversible sports seat and a big ventilated hood with aluminium frame. The sports seat has an alimunium frame and its posible to adjust it to a comfortable sleeping position. The elegant linen fabrics of of the carrycot and the sports seat are smooth to the touch and beautiful to the eye.
Elegance:
The stroller has a comfortable 3 in 1 carrycot which is convertible into a footmuff
The carrycot and the reversible sport seat are made from smooth and elegant linen fabrics.
The handle bar is adjustable in its height and covered with soft faux leather.
The silent adjustable sunshade has an aluminium frame and a window with mosquito net.
Handy:
The pram has big suspended EVA back wheels and lockable suspended swivel front wheels .
Your child will sit comfortable and safe thanks to Leo's 5-point-harness and its removable bumper bar with crotch strap.
The reversible sport seat is seamless adjustable into a reclining position.
The backrest of the sport seat comes with additional stabilisation.
The stroller comes with a big shopping basket .
The pram is lockable in its folded position.
Technical data:
With 3-in-1 carrycot, sports seat, Universal-Adapter and rain cover
Adapter suitable for Maxi-Cosi, Cybex, Kiddy, Recaro Privia, HTS
29,5 cm double-spoke, foam-filled wheels with suspension and ball bearings
Adjustable handlebar from 80 to 110 cm
Measurements standing: 93cm length, 60cm width, 115cm height
Measurements folded: 106cm length, 44cm width, 59cm height
Weight wit carrycot: 14,5kg
The pram is suitable for use from birth.