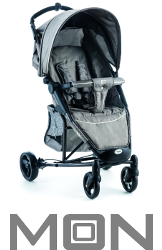 Jump to products
Moon Kiss - The Joy of Lightness
The stroller Moon Kiss is made for the city. With the big sun shade and the comfortable sports seat the pram is a welcome companion.
Useful:
A big shopping basket with a zip to the side.
Individualy adjustable backrest of the pram and the soft padded seat as well as the big ventilated sun screen for a comfortable journey.
The removable swivel bumper bar with a croth strap and the 5-point-harness let the child sit securely.
Handy:
The single-hand sliding handle in combination with the lockable swivel front wheels make it the perfect compagnion for city life.
Thanks to its 3D-folding mechanism it fits in nearly every car .
With 8,3kg the stroller is really lightweight.
Easy care:
Sturdy aluminium frame
Heavy-duty, durable wipeable polyster fabric
Technical Details:
Big EVA wheels with suspension
Measurements standing: 76cm length, 58cm width, 105cm height
Measurements folded: 72cm length, 42cm width, 88cm height
Weight: 8,3kg
The stroller MoonKiss is for children from an age of 12 month.