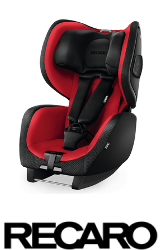 Jump to products
Recaro Optia - handy toddler car seat of the Recaro Shuttle Systems
As soon as your child is to big for its infant carrier it is time for Recaro Optia. This forward facing toddler car seat is usable from about 9 month up to 4.5 years. As a member of Recaros shuttle system the Optia is like the Recaro Privia usable with the optional RECARO fix isofix base. The isofix base allows a better handling of the car seat and better protection for your child in case of a car crash.
The car seat is only with the RECARO fix base usable.
The innovative HERO Safety System connects headrest and shoulder straps for a comfortable and safe journey. ASP (Advanced Side Protection) consists of high performance energy absorbers for better protection in the event of a side impact. The foldable side protection is space saving. the earlier contact between car seat and cassis guarantees optimal allocation of impact forces. The seat shell cast in one piece is another part of the protection of your child.
Recaro Optias intuitive control elements of the Recaro SMARTfit Comfort System allow easy and safe handling of the toddler car seat. The car seat comes with an 6 position adjustable headrest and its recline positions are easily adjusted with one hand.
Age Group I (9-18 kg or 9 month to 4,5 years)
ECE Norm R 44/04