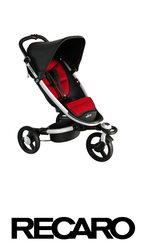 Jump to products
BabyZen ZEN Recaro edition - luxury and functionality for parents and children.
The ultimate stroller – perfect comfort, innovative technology, functional details and exclusive design. The ultra-light BABYZEN by RECARO (less than 10 kg) can be adjusted for you and your baby's needs with its light, ergonomic and easy to use design. It's very practical thanks to its versatile and long product life:
It can be combinied with the infant carrier RECARO Young Profi Plus or used simply as a classic stroller. ZEN™ Recaro edition … "Its so you".
Manual BabyZen ZEN™ Recaro edition
Video BabyZen ZEN™ Recaro edition
Extremely Compact:
when folded it will fit in the boot of a small car such as the FIAT 500 or the Mini.
Safety plus:
patented single-hand folding mechanism – can be easily folded in a few seconds.
Adjustable handle:
in 3 steps from 98cm up to 109cm
Patented blocking system:
the front wheel locks automatically when going over very uneven surfaces.
Safety warning light:
internationally patented driving- and warning light (LED).
Long product life:
from newborns to children of 20 kg.
Practical:
can be perfectly combined with the baby shell RECARO Young Profi Plus.
High-quality covering:
all covers are removable and suitable for machine wash at 30 °C.