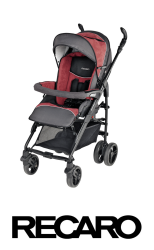 Jump to products
RECARO Akuna - The perfect way to travel over many years.
The very light and manoeuvrable RECARO Akuna stroller will accompany your child from the very start of life. It is easy to use and has many functions. The RECARO Akuna can be optimally adapted to the most varied of needs using its accessories and, with its special adapter, it is the perfect match for the infant carrier RECARO Young Profi plus. With its three different combinations – the practical carry cot, the infant carrier RECARO Young Profi plus or simply a classic stroller – it can be used from the first few weeks right up until the child weighs 15 kg.
Available in 2 colors:
Asphalt Grey or Cherry Black = both models are complete sold out. There are only partially accessories available!
Set of 1: Recaro Akuna (1 pack) = sold out!
Set of 2: Recaro Akuna and Recaro Young Profi Plus (2 packages) = sold out!
Set of 3: Recaro Akuna & Recaro Young Profi Plus & Recaro Akuna Carry Cot (3 packages) = sold out!
Variable:
seat for the stroller can be attached forwards or backwards.
Sporty design:
very light and manoeuvrable with ultralight aluminium frame (10.5 kg) and ball-bearing wheels.
Very long useful life:
for children from birth up to 15 kg.
Practical:
practical attachment for the infant carrier RECARO Young Profi plus. Its backrest can be adjusted 3 times: with reclining position.
High-quality coverings:
all covers are removable and suitable for machine wash at 30 °C. Stroller folded dimensions:
30 x 37 x 106 cm
All accessories are available from us.
Many practical accessories are available:
Babyseat Young Profi Plus, Carry Cot, Sleeping Bag, Diaper bag large or small, Mosquito net, Rain gear, Sunshade, etc.
For a larger view, click image