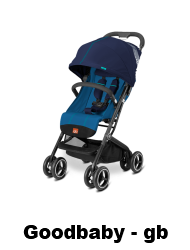 Jump to products
The luxury travel stroller
The Qbit+ has all the benefits of its little brother the Qbit, with extra premium functions engineered for maximum comfort and convenience. This compact buggy is packed with a list of smart features, including a reclining backrest with a true lie-flat position suitable from birth, a head hugger and bigger wheels all offering comfort and convenience from stage one. The super compact folding system can be operated using just one hand, leaving the other hand free for hand-holding or carrying shopping. It will amaze you that this compact, light city buggy can accommodate all the comfort elements of a 'big' stroller. It's built for travelling, from beach holiday trips to urban escapes. The Qbit+ can be used as a travel system (adapters optional), you can fit any gb or CYBEX infant car seat to the frame.
Goodbaby Qbit+ at a glance:
Common ground with the "little Brother" Qbit:
One hand fold: The innovative fold technique can be operated using only one hand and transforms the Qbit into a compact and free-standing package in seconds
Big little buggy: Spacious and comfortable for kids, compact, light and easy to carry for parents
Travel system: With the adapters (optional available) you can attach a gb or CYBEX infant car seat onto the frame
Compact Living: the compact folded package can fit anywhere, in the smallest car trunks, under a train seat or in valuable storage space at home
One hand push for convenient pushing and steering
The hood window lets you keep the little passenger in view while on the go
The buggy's XXL sun canopy can be extended to offer shade for the little one
Comes with a bumper bar for extra grip and comfort on the go
Its spacious shopping basket lets you store away your belongings (max. load 5 kg, 11 lbs )
The front swivel wheels can be locked for stability on uneven surfaces
With adjustable backrest
With adjustable leg rests for a restful ride
Additional features of the Qbit+:
Flat reclining position
Well padded head, shoulder and crotch pads
One-hand adjustable into multiple positions
Bigger Wheels: Wheel diameter of 16 cm (4 inch) with swivel lock function
Technical details:
You are also welcome to request a non-binding offer from us for the new 2020 models gb Qbit + All-City, gb Qbit + All-City Fashion and gb Qbit + All-Terrain.