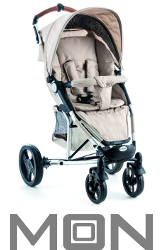 Jump to products
Moon Flac - Charm galore
The Moon Flac is an equaly elegant and handy companion for everyday life in the city. The charming stroller features smooth and elegant linen fabrics, leather imitate handle bar grips and a comfortable sport seat with 5-point-harness and big ventilated sun shade.
Elegant:
The sport seat and the sun shade are made of smooth linen fabric.
The handle bar has removable leather imitate grip covers.
The buggy has a big and adjustable sun shade with ventilation.
Handy:
The stroller has big suspended EVA wheels in the back and lockable swivel front wheels.
The 5-point-harness and the removable bumper bar with crotch strap keep your child safe.
The soft padded sport seat is adjustable to a sleeping position.
Thanks to the patented 3D-folding mechanism its really compact when folded.
Technical details:
Big EVA wheels with suspension
Hight of handlebar: 107cm
Measurements standing: 72cm length, 58cm width, 105cm height
Measurements folded: 72cm length, 42cm width, 38cm height
Weight: 10,3kg
Moon Flac is suitable for children from an age of approximately 6 month.