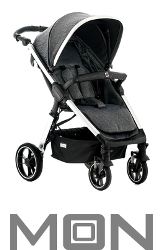 Jump to products
Moon Jet-R – over sticks and stone
What the JET can do, the JET-R can do all along - and even more: In the tuning variant of our
Sports cars even off-road rides are the easiest exercise for you. Large solid rubber wheels with EVA-core and racing rims make it possible.
Her baby lies softly suspended, slumbering peacefully. Whether you are over a quiet clearing or the busy promenade. You have everything under control - with a noble imitation leather cover. If only everything could be as simple as this stroller.
Technical details:
Rain cover included
Rubber wheels EVA-core rear: 24 cm
Height-adjustable slide: 95–105 cm
Measurements: 85 cm length, 61.5 cm width, 107 cm height
Measurements folded: 46 cm length, 61,5 cm width, 86 cm height
Weight: 10 kg
Maximum weight of the child: 15 kg
Load capacity of the shopping basket: 5 kg
Universal adapter optional
The buggy can be used from the age of 6 months.