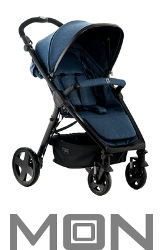 Jump to products
Moon Jet — always a great time
The JET among the buggies. Even if you and your offspring don't want to set a record, you could do it with the Easy Fold single-handed folding mechanism.
Pull the drawstring underneath the seat cushion, the trolley folds down and remains folded up. Wow!
Of course, the speedster can also drive: Quickly into town or just get going. With spring-loaded EVA wheels with double ball bearings, a sunshade with LSF 50+ and the rain cover supplied, you are always well-equipped. And if you're in a hurry, just use the handbrake.
Technical details:
Rain cover included
EVA wheels front: 18 cm
EVA wheels rear: 24 cm
Height-adjustable slide: 95 – 105 cm
Measurements: 85 cm length, 61.5 cm width, 107 cm height
Measurements folded: 46 cm length, 61,5 cm width, 86 cm height
Weight: 10 kg
Maximum weight of the child: 15 kg
Load capacity of the shopping basket: 5 kg
Universal adapter optional
The buggy can be used from the age of 6 months.