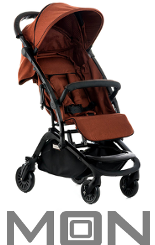 Jump to products
Moon Star — without detours in the middle of life
A STAR for the city and other hot spots. You are on the road a lot and want a lightweight, maneuverable buggy? Here he is! Whether you lock or swivel the EVA suspended wheels, you have the choice - and your child enjoys full comfort.
The spacious basket holds more than just purchases and more. Practical: You always have your hands free if your baby asks for the pacifier. And after the tour, thanks to innovative folding technology, you can turn the stroller into a very compact package with ease.
Technical details:
EVA wheels front: 13 cm
EVA wheels rear: 16 cm
Continuous handle bar: 104 cm
Measurements: 88 cm length, 47 cm width, 110 cm height
Measurements folded: 50 cm length, 47 cm width, 25 cm height
Weight: 8,4 kg
>Maximum weight of the child: 15 kg
>Load capacity of the shopping basket: 5 kg
The buggy can be used from the age of 6 months.