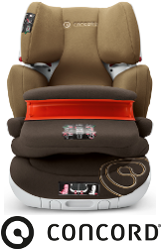 Jump to products
Concord Transformer XT Pro - Fully equipped for children from 9 month old
The TRANSFORMER XT PRO is equivalent to the TRANSFORMER XT in all its safety and comfort features. A quantum leap in function and design: the child car seat provides so far unknown ease of operation. Headrest, shoulder protectors, and sit/recline inclination – all important functions can be operated at the touch of a button, supported by a pneumatic system. The seat grows continuously with the child, thereby ensuring a truly comfortable ride for children aged between 3 and 12. The seat's closed shell shape guarantees maximum safety at
every age. With its original design, the CONCORD TRANSFORMER XT sets a clear example: a new generation of seat.

The seat can even be used for a child from the age of 9 months with the impact shield, without it the seat is suitable for children up to 12 years.
Measurements and technical details:
Measurements: length 450 mm, width 450-550 mm, height 630 - 820mm
Weight: 10,4kg (22,9 lbs) + 0,9kg (2 lbs) for the impact shield
Car seat with ISOFIX