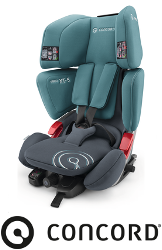 Jump to products
Concord Vario XT-5 - Groups I, II and III - our simplest and safest yet
An easy-to-operate Group I, II, III seat with a smart size-adjustment facility to keep pace with your child's growth and a five-point harness system for Group I. The adjustment of the headrest and shoulder protectors is automatically blocked until the seat is set at its lowest level, indicating that a move from Group I to Group II / III is required.
VARIOSIZE SYSTEM the smart size adaptation system, coupled with the seat height adjustment facility, prevents incorrect product use when moving from Group I to Group II / III. Headrest height as well as shoulder protector height and width continuously and simultaneously adjustable at the touch of a button, pneumatically supported.
EASY ADJUSTMENT OF THE SEAT HEIGHT from Group I to Group II / III using a handwheel. Coupled with smart size adaptation
GOOD AIR CIRCULATION particularly in the lower part of the backrest
MAXIMUM SAFETY thanks to excellent energy management, innovative cushioning materials and a perfect ergonomic belt geometry system
5-POINT BELT SYSTEM (GROUP I) easy to operate and adjust
As a group I seat the car safety seat is usable with ISOFIX. It is not possible, to use the car seat as a group I seat with the cars 3-point-belt. As a group II-III seat, it is possible, to use the car seat with the 3-point-belt of the car. The ISOFIX connectors of the children car seat are retractable.
It is obligatory to use the group I seat with the seats Top Tether. For group II-III it is optional but advisable to use the Top Tether
We advise you to use the Top Tether every time you use the seat, regadless of the size and age of the child. The car seat will be better connected to the car and more stable, even with the ISOFIX connectors. Usage of the Top Teather reduces the risk of injury of the child or other passengers of the car in case of an car crash or an panik brake.
Measurements and technical details:
Measurements: 50cm length, 43-54cm width, 67-82cm height
Weight: 13,9kg (30,6 lbs)
ECE-R 44/04, Group I-III, 9 bis 36kg
from 9 month up to 12 years