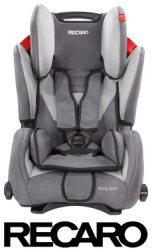 Jump to products
Recaro Young Sport Child Seat
Maximum safety - not only for little aces
The new RECARO Young Sport provides your child with a novel 5-point harness system that provides for the age group I (approx. 9 months to 4 years) for "growing " safety. When sizing the backrest, the harnesses are automatically in the correct position, thus affording your child optimum. As soon as your child grows, you simply remove the harnesses. Your child is then secured with the vehicle's 3-point belt.
NOTE: The new Recaro Young Sport models have no more belt alarm.
This childrens car seat is without ISOFIX.
about 9-36 kg body weight and/or
about 9 months to 12 years
ECE R 44/04 Norm
Instruction Manual Young Sport
Installation video Recaro Young Sport (9-18kg)
Installation video Recaro Young Sport (15-36kg)

Source of Video and manual: RECARO