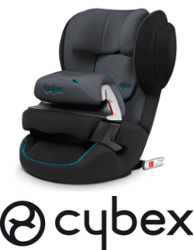 Jump to products
Cybex Juno 2-fix - next generation safety
The CYBEX Juno 2-fix is based on the award winning Juno-fix (Stiftung Warentest, 06/2012). Itself is winner "sehr gut" (1,4) (very good) of the ADAC/Stiftung Warentest test from 11/2013 in the group of car seat suitable for children from 1 up to approx. 4 years.
It provides a safe forward facing travel solution for children aged approximately nine month to four years (9-18kg / 19,4-39,7lbs). The Juno 2-fix features the revolutionary CYBEX adjustable safety cushion (patent pending). Resembling an inflated airbag the forces of an impact are absorbed over the surface of the safety cushion, significantly protecting the sensitive neck and shoulder area.
Juno 2-fix also boosts further safety features, including the CYBEX optimised Linea Site-Impact Protection (L.S.P.System Plus) and ISOFIX Connect. What's more these safety features are matched with smart functionality including a height adjustable comfort headrest with eight positions, recline function for superior comfort while sleeping, an air circulation system and is ultra light (when compared th other ISOFIX enabled car seats) at only 6.7kg / 14,8lbs.
Compared to the Juno-fix the Juno 2-fix has a improved seat geometry and better handling.
This toddler car seat is exclusively with the cars ISOFIX system usable.