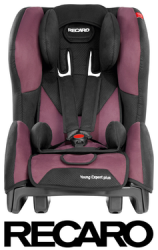 Jump to products
RECARO Young Expert plus - the expert for safe driving.
The RECARO Young Expert plus can be secured with Isofix and has large sides on its protective shell, ensuring extra protection in a side-on collision. It is particularly easy to use, has comfortable padding and the harness can be adjusted to three different heights. The belt protector and energy absorbers in the chest and head areas make the RECARO Young Expert plus an expert in safe seating.
This toddler car seat can be used with the cars ISOFIX system if combined with Recaro ISOFIX Base.
Age Group I (9-18 kg or 9 month to 4,5 years)
ECE Norm R 44/04
Instruction Manual Expert Profi plus