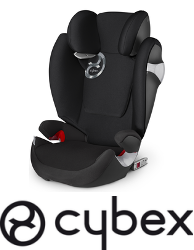 Jump to products
Cybex Solution M-fix - modern safety
As a member of the Cybex Solution series the Cybex Solution M-Fix comes with a modern design as well as the well known safety features of its award winning predecessor Solution X2-fix. Those include the patented reclining headrest, which prevents the head from dangerously falling forward when asleep,
as well as the further improved Linear Side-Impact Protection (L.S.P. System Plus) which channels the energy of an side impact into the energy absorbing shell of the car seat. The ISOFIX connect system further reinforces the stability and safety of the seat. The seat is also compatible with cars that are not equipped with ISOFIX. There it is secured with the cars own 3-point-belt.
Results of tests:
Stiftung Warentest: 1,8; Winner of the test (06/2015); with an other manufacturer
ADAC: gut (good) (06/2015)
ÖAMTC: gut (good) (06/2015)
TCS: sehr empfehlenswert (highly recommendable) (06/2015)
Auto Motor Sport: empfehlenswert (recommendable) (15/2015)
Reclining headrest

The Cybex patented 3-position reclining headrest guarantees optimal protection in the case of a side-impact. It safely shifts the balance point of the child's head slightly back and prevents it from falling forward when the child is asleep. In the case of a side-impact collision, the child's sensitive head
remains within the safety zone of the seat, ensuring optimal protection.
Adjustable Linear Side-Impact Protection (L.S.P. System Plus)
The force of a side-impact collision is absorbed in a linear series of reactions through the use of protective side cushions, along with the shoulder and head protectors. At the same time, the body's kinetic energy caused by the impact is absorbed at a very early stage and the head is actively led into a safe position.
ISOFIX Connect
The ISOFIX Connect system offers enhanced safety and greater stability in both groups. The seat's connectors simply snap into the vehicle's ISOFIX anchorage points. The connectors can be easily folded away making the seat compatible also with cars not equipped with ISOFIX.