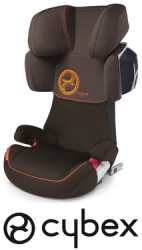 Jump to products
Cybex Solution X2-fix - uncompromised safety
With innovative safety features including the CYBEX patented 3-position reclining headrest, the optimised Linear Side-Impact Protection System (L.S.P. System Plus) and the ISOFIX connect it is of little wonder that the Solution X2-fix has only received top marks in Europe's most renowned consumer safety tests.
The most important element in the safety concept of the Solution series is the CYBEX patented reclining headrest, which prevents the head from dangerously falling forward when asleep. The ISOFIX connect system further reinforces the stability and safety of the seat. The seat is also compatible with cars that are not equipped with ISOFIX. There it is secured with the cars own 3-point-belt.
3-position reclining headrest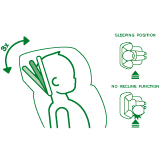 The patented 3-position headrest shifts the balance point of the child's head slightly back and keeps it from leaving the safety zone of the seat when the child is asleep. Especially in the case of a side impact collision the child's sensitive head is optimally protected. The result is a more comfortable sleeping position and considerable 100% more safety.
L.S.P. SYSTEM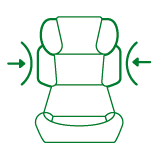 With the revolutionary L.S.P. System (Linear.Side-impact.Protection) the momentum of a side impact collision is systematically reduced. Due to this new configuration, a series of reactions are triggered in which the head and shoulder protectors of the child seat absorb the momentum of the body at an early stage during the impact and lock the sensitive head of the child into the safety zone of the seat.
ISOFIX Connect

The ISOFIX Connect system offers enhanced safety and greater stability in both groups. The seat's connectors simply snap into the vehicle's ISOFIX anchorage points. The connectors can be easily folded away making the seat compatible also with cars not equipped with ISOFIX.