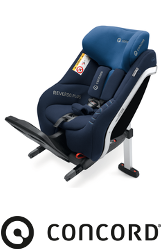 Jump to products
Concord Reverso.Plus - THE REBOARD INNOVATION: EXTREMELY SAFE, EXTRA LIGHT
The CONCORD REVERSO impresses thanks to its broad range of applications. Thanks to the separately cushioned newborn inlay, the seat is a fully fledged cradle for ages up to three to five months. Thereafter, without the inlay, it is suitable for children up to a height of 105 cm. In terms of handling, the CONCORD REVERSO is far ahead of other Reboard seats. The convenient rotating wheels allow the leg supports and, in particular, the angle of sitting or lying to be adjusted.
This can even be done comfortably from the driver's seat. As a rule, all the adjustments can be made from all sides and are marked with clear, mechanical red-green indicators, as is the Isofix mounting. In general, the CONCORD REVERSO represents a new generation of Reboard seats. Its clear, tidy design is a visualisation of the new technology.
A circular lightweight aluminium protection frame with an internal multifunctional shell, made entirely from shock-absorbing material, offers maximum protection with minimal weight. With the inlay for newborns inserted, the CONCORD REVERSO weighs 10.9 kg – without the inlay it even weighs in at under 10 kg (9.9 kg).
Results of tests:
Stiftung Warentest: 1,8 (06/2016)
ADAC: gut (good) (06/2016)
ÖAMTC: gut (good) (06/2016)
TCS: sehr empfehlenswert (highly recommended) (06/2016)
Plus Test passed
Technical details:
Measurements: length 80 cm, width 44 cm, height 46 cm
Support leg: 76 - 100 cm
Weight: 10,9 kg (24 lbs) with newborn inlay, without inlay 9,9 kg (21,8 lbs)
Car seat according to ECE R-129, i-Size, suitable from birth up to a body height of 105cm.
Productvideo Concord Reverso.Plus
Installvideo Concord Reverso.Plus
Gebrauchsanleitung Concord Reverso.Plus Softcover