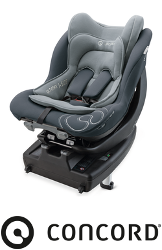 Jump to products
Concord Ultimax i-Size - Combines versatility with safety on the road
The ULTIMAX I-SIZE child car seat is fitted with an Isofix platform to ensure simple and secure anchoring in the vehicle. The seat can be used in both forward-facing and rear-facing positions, making it a group 0+ baby car seat and group I child seat in one.
The Ultimax i-size is usesable in rear-facing position (Group 0+). From an age of 15 month the seat is usable in forward-facing position (Group 1).
With the Isofix system for simple and secure installation in the vehicle, conveniently operated from the front. Its 5-point strap system is user-friendly centrally adjustable. The car seat comes with an innovative side impact protection system and an headrest with height adjustment to 6 positions. The seats strap height adapts automatically. To switch from sitting to reclining use the convenient twist handle.
The soft, padded cover are, easy to remove and wash. The pelvic insert is removable for significantly more seat depth for larger children (from approx. 9 kg, 19,8 lbs)