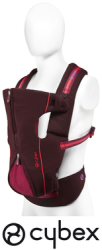 Cybex 2.Go - developed in cooperation with midwives and orthopaedists
The innovative CYBEX 2.GO unites the orthopaedic benefits of a sling with clever functionality and individual design. The individually adjustable headrest offers the perfect fit and necessary support, while the seat can be widened into the spread-squat position recommended by orthopaedists.
The CYBEX 2.GO offers the possibility to carry babies the most natural way and has positive effects on their mental development and due to various carrying positions the physical development is promoted. The ergonomic cut fits the baby's rounded back perfectly and the individual setting options guarantee a perfect and safe fit. The carrier offers high comfort with padded straps and an optimised weight distribution away from the shoulders.The functional materials used are all easy-care, durable and lightfast, making them ideal for daily use.
EN 13209, approx. 3 months to approx. 5 years (3.5 - 18 kg)
Spread-squat position
From approx. 3 months onwards the child may be carried vertically. The sitting area can be individually adjusted to offer the orthopedically recommended spread-squat position.
Carrying comfort

Ergonomically shaped and well padded carry straps produce less strain on the back and great carrying comfort due to optimal weight distribution away from the shoulders.