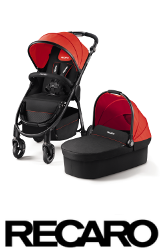 Jump to products
The new Travel System
The lightweight and versatile Recaro Citylife is the perfect pram from birth. You can use Recaro Citylife with an infant carrier* as a travel system, with Recaro Citylife Carrycot* as a pram or with its own seat as stroller. Intuitive one-hand-folding, compact fold able, big shopping basket, fully suspended wheels and push-push-break - Citylife satisfies the highest demands of comfort, quality and versatility.
Versatile
The lightweight pram is compact foldable and comfortable for everyday life.
Recaro Citylife Carrycot looks great and is comfortable from birth. Its optionally available.
Adapter for Recaro Infant Carrier Guardia, Privia Evo, Zero1, Privia and Young Profi Plus are available as accessoires.
The ergonomic seat is suitable for children from 6 months up to 17,5 kg (38,5 lb)
The backrest and footrest of the stroller are adjustable to a flat reclining position.
Useful
Fully suspended wheels
Very agile with its lockable 360° swivel wheels
Comfortable with its height adjustable handlebar
Handy push function makes the use of the brake easier
Intuitive one-hand-folding
Innovative
Never again flat wheels: thanks to an exclusive material the wheels are extremely robust. There is no need to inflate them.
Technical data of stroller Recaro Citylife
Safety bar, Raincover and cup holder included
Fully suspended fail-safe wheels
Measurements: 98 x 60 x 108 cm
Measurements while folded: 40 x 60 x 73 cm
Seat: 35 cm width (front 38 cm) x 25 cm depth
Reclining area of the seat: 70 cm (with footrest 90 cm)
Weight with seat: 10,2 kg (22,5lb)
Technical data of Recaro Citylife Carrycot
Size of optional Recaro Citylife Carrycot: app. 30 cm x 76 cm
Size of the outside of the carrycot: 44 cm width x 85 cm length x 61 cm height
Weight of optional Recaro Citylife Carrycot: 3,8 kg (8,4 lb)
* Optionally available