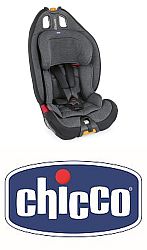 Chicco GRO UP 123 - A child seat, which supports your child on its long journey!
The adjustable child seat Chicco GRO UP 123 is the perfect companion for travelling and follows the growth of your child from one year to approx. 12 years.
It is approved according to ECE R 44/04 Group 1 - 3 (9-36 kg) and is therefore a loyal companion for many years. The child is secured in the child seat in group 1 (9-18 kg) by an integrated 5-point belt system. From group 2 (15-25 kg) & in group 3 (22-36 kg) the child can already be secured together with the seat by using the 3-point belt system of the vehicle.
The seat has a special reclining system for a relaxed sleep on long journeys & the headrest can be adjusted in height as required. For parents, the seat is particularly user-friendly due to the simple operation & the easily identifiable, orange-coloured controls.
The seat reducer made of a breathable mesh fabric gives the little ones a secure hold and ensures comfortable.
The cover of the seat is removable and washable at 30 °.
The Chicco GRO UP 123 is installed by using the vehicle's 3-point seat belt. - More about? See the installation video below.
Dimensions and technical details:
Dimensions: Length 51 cm, Width 51 cm, Height 78/81 cm
Weight: 6,5 kg
Car Seat Group 1/2/3 (0-36 kg)
Instruction manual Chicco GRO UP 123